ripple and square
I need to take a better close up picture to show the colors (to help out my bad memory later) but here is the purple ripple, done.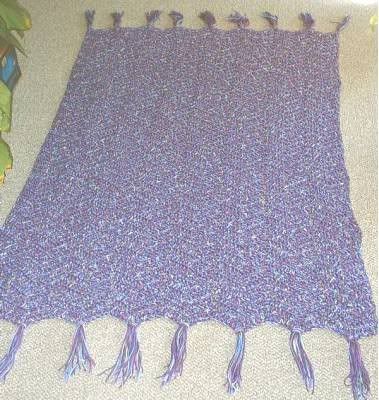 Once I sat down to work on it, I realized I only really needed to finish the row I was working on, add single crochet at top and bottom and then add the fringe. So I'd been stalling on working on it for three days and was 20 minutes from completion.
I started one of the pillowghan squares last night. I'll post a picture of it when I finish the square this evening. I've never done this pattern before though I know it's been around for a while. I'm pleased, it's the
pineapple pillowghan
square and very pretty. An added bonus for me was figuring out the pattern fairly quickly and making sense of it. Any pattern I can figure out quickly becomes a favorite of mine and I then start forming a list of who else can I make one for. :o) I don't even know who this one is for yet!