Granny's Dogwood
After pouring through pages and pages of patterns, missing some obvious choices, leave it to
Donna
to find the perfect square for the pink and lime green afghan. It's got color changes every round almost, but darn it I don't mind. It's so much nicer than the other blecky square. The other square
is
a very nice pattern, but it just wasn't doing it for me in pink and lime green.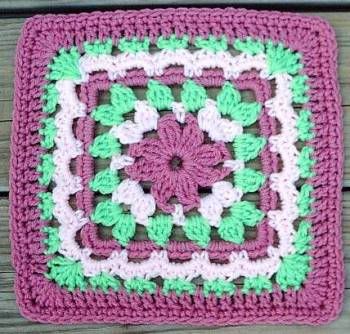 I managed two of these in about the same amount of time as it took me to plod through one of the other
squares
. The pattern comes from
Vanna's Favorite Gift Afghans
. Thanks for the help Donna!
Last night I ordered two books I've been drooling over for quite a while,
Hip To Crochet
and
Simple Crochet
by Erika Knight. I'm eager for them to get here; I've flipped through both and can't wait to try some of those patterns.