Grape Ape
Thanks to some of the wonderful ladies at Crochetville, we've started a quick project for
a family
who needs a little extra love and caring. Some of us have already donated hats, pillows and other fun things for a little girl in need, now we're hoping to spread a little cheer through the rest of the family. Eight of us are making three 12" squares each, to be joined together by the fabulous
Chelle
into an afghan to send to the little girl's mother, who is away from home with her daughter during a very stressful time. Mom's favorite colors are purple and teal, but it looks like worsted weight teal is very hard to come by, so the afghan will be mostly purple with plenty of accent colors.
I finished my first square today, and like it so much I'm going to be hard pressed not to make the same pattern again. I really like the way it turned out.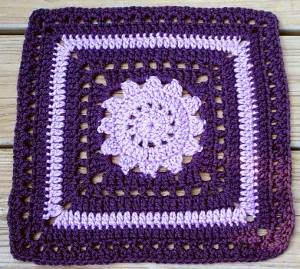 The colors are RH Dark Plum and Orchid. I'll definitely be using the pattern again for something else, even if not for this project. I thought at first I would make each of my three squares the same, but I'm liking the idea too of having as many different squares as eight women across the country can come up with.