Here I go again
Last night I was wide awake until nearly 2:00am, contemplating what to do about the pink and lime green afghan. I've all but decided to start it over. The good news is that Wal-Mart carries the two shades of pink I've been using. The bad news is that they don't carry the lime green. If I need more, I'll have to check Hobby Lobby, nearly two counties away. I'm sure if they don't I can find something else to buy, but whatever I buy may not help me out in the quest for lime green yarn.
I'm looking at a couple of basic granny square patterns. I can't get out of my head that she liked the "flower squares" I was working on during a visit a few years ago. Those flowers were granny squares. I got up out of bed last night and started flipping through pattern books to find a layout of squares I might like. And why can't I find my books when creeping through the house in the middle of the night? They must all go out to party while we're sleeping, because I could only find half of them. I studied all kinds of patterns with flower-type motifs on them, but have ruled out most as being to dainty looking to go well in the lime green. I haven't settled for sure on one over any of the others yet, especially when I haven't even found all of my books. I can tell you that I keep stopping at the ones that are more kid oriented, because those colors surely are bright and bold like most of the kid stuff.
Here are the four squares I'm sending to Chelle today. Each one is a twelve inch square, made from RH Dark Plum, Pale Plum and an unknown RH teal that I bought years ago and dredged up from my stash. The three darker squares came from
Dayna's Crochet
, and the pale purple one is an altered version of a popcorn pattern I didn't think worked up right. I'm sure it was me, not the pattern, but in any case it wasn't one of Dayna's patterns.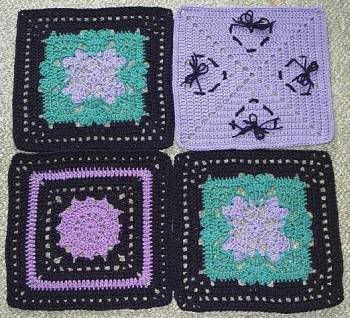 We decided to each make four squares, with the fourth being a duplicate of one of the three for a lapghan for Jordan. Then both mother and daughter will have matching ghans.