Holy Batwings!!!
Every time I look at this picture I start humming the theme to
Batman
.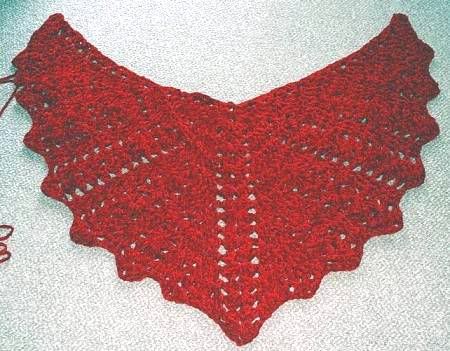 If I was really clever I'd figure out some way to do a bat-themed photo, but frankly I'm just glad to get the whole shawl in the viewfinder now. Soon enough I'll be standing on a chair while it is on the floor, and in the pictures you won't be able to tell it is getting bigger, but it is, truly.
On a side note, how do bugs always know exactly how to buzz right in your ear? Gah!
Anyway, the shawl is coming along very nicely. It is 24 inches in length, and feels so soft and warm that whenever I try it on I hate to take it off again. Of course, it is 80° in the house, so it doesn't take long before I'm lifting it off. I am only working on it in the evenings, during movies or boxing matches, but may devote an entire day to it soon just to blast through it.
The bag in my previous entry came from Joanns, same as the yarn for the shawl. It was $20 and a steal at that price for as big a bag as it is. Yes, they had knitting bags too, but as has been mentioned, crochet ones are hard to come by!
I thought I'd show a picture of the shawl I made for Ulla, who was my Secret Pal on the last swap rotation at
Crochetville
. I used 1½ skeins of the
Patons Divine
Frosted Green and loved it. I think she did too! :o) I used
this
pattern.