Better
This week has been a very long and stressful week. All of my worries for the health and well-being of the one I love more than anyone else in the world were brought front and center, and I could feel every second tick by slowly. While each day brings new improvement, I still spend a good portion of every few hours praying and giving thanks. I'm able to breathe a little easier now, and hopefully things will continue to improve for my sweetheart. Thank you to all my crochet blog friends, especially my friends at
Crochetville
who sent emails and prayed for us. It is truly and greatly appreciated.
With all the stress and worry, I couldn't concentrate on any of my regular projects. I was too nervous to look at a pattern, and to remember it was even more difficult. I did manage to work on one thing this week, however. Every time I think of this shawl, I think of it as "
Ro's
Shawl". In reality, the shawl pattern came from
this
website, but it was
Ro's shawl
that had me desperate to make it. Rick insisted on Saturday that I buy yarn to make it, and it was great timing as I didn't feel like working on anything else this week. Something warm to comfort me, I finished it in three days and struggled for hours today to get pictures that would do it justice. I'm not sure I got good ones, but at least I've stopped stomping my feet and mumbling under my breath at the camera.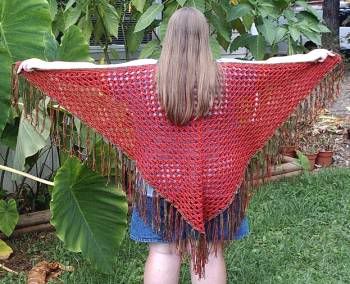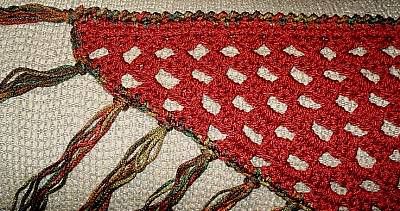 The colors are Red Heart Ranch Red and Farmland for the fringe and edging. I need to buy about three dozen skeins of each of these, I love these colors. Particularly the red. I did a row of reverse sc across the top, on top of a row of sc in each color. It feels very sturdy and secure, I'm totally in love with the way it looks. It is possible that I would not like the shawl so much if I hadn't had such a stressful week. This is my comfort shawl, and it almost but not quite makes me look forward to Fall.
The mail lady brought me gifts today. A nice box from amazon.com with
Hip to Crochet
and
Simple Crochet
by Erika Knight. I can't decide which book I like more, and the patterns in
Hip to Crochet
that I thought I would like to do when flipping through the book at Michael's, I still want to do. I love the Bohemian Jacket, it's just beautiful. I started a slipper with the RH Farmland, what little I have left. Guess I'll have to get more. ;o)