60 Years
My grandparent's 60th wedding anniversary was today. They had a get-together at one of my aunt's houses for them. Seeing as they are in Michigan and I am here in Georgia, I didn't get to go. Thanks to my other aunt, I got to see
them
. I understand from my aunts that neither one of my grandparents are doing very well, but at their age I guess that is to be expected though not approved. I remember being struck by how frail my grandmother seemed when I visited them in June, but now they say my grandfather isn't well. Either way, I make sure to call them as often as they will let me so I can tell them I love them.
This is the lapghan I finished yesterday. It is for my grandfather to cover up with in his chair.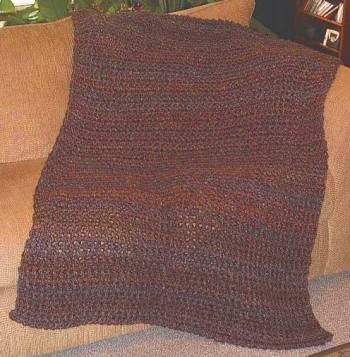 I used two strands of Lion Brand Homespun Adirondack, a Q hook and sc stitches. At the top and bottom I used my favorite reverse sc for a edging. I was inspired to make this quick lapghan by
Jayme
who made one for her mother. It's really warm, I think he'll enjoy sitting under it this winter.
I worked on five snowflakes today. Three are in the trash, half completed. So totally beyond my patience level today that I had to give up. Yes, I could have saved them to try again another day, but frustration won out. I finished two though, and will take pictures of them tomorrow. I won't post each one as it is completed, but I will make a gallery-type page to show them off. I really am loving the snowflakes.