And another...
This past Saturday Rick and I made a Hobby Lobby run. I had visions of wool dancing before my eyes, and Rick was willing to let those dreams come true and so soon after my recent Joanns
extravaganza
. I couldn't find any wool though, nothing that called my name and
demanded
begged me to purchase it. (Acrylic doesn't boss me around, it just sits there and waits because it knows I can't resist the colors and the ease with which it works up. Wool has my attention, but it hasn't found a way in to Wal-Mart yet and I have a hard time finding it anywhere else. Wool wants me to buy it every time it sees me, but it knows it costs more than acrylic and that I am very practical. Wool has learned to be bossy and keep me from sleeping at night, or worse still, to insert itself into my dreams so I have no choice but to crave it.)
Rick found some yarn he liked, however. This is Lionbrand Jiffy Thick & Quick in
Ozarks
and two strands of RH Super Saver Black. (You probably could have guessed the black, I apologize.) My trusty P hook is being put to use again (I'm going to end up giving that hook a name as much as it has been used lately) and soon enough I'll be....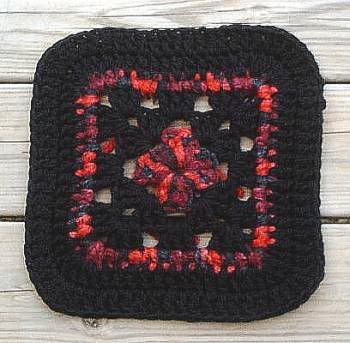 ... joining squares. Only
eleven days
after I said "I think I'm squared out for the time being. No more for me for a while."
That lasted long, didn't it?
I haven't measured the squares yet, but I imagine they are about 10" across, maybe a bit more. I finished two already and they were the same size so that was all I worried about at the time. I can't resist it when Rick points out a yarn he liked, and he liked the Ozarks. No way am I going to tell him no!! :o)