Birthday Socks
I've told part of this before to various folks, but for lack of a better way to start the entry, I'll blab about it again.
When my sister was pregnant with my nephew nearly eight years ago (eight years, I just want to faint at that - how can he be eight?), she 'enjoyed' one of the side effects of pregnancy, edema. She couldn't wear her rings or regular shoes, but in the middle of November and December walked around wearing flip flops. She would put on my BIL's big thick white tube socks that he wore inside his work boots, and then put the flip flops on over those. She hated it, my little fashion conscious sister. She vowed that after she gave birth, she'd never wear white socks again. For Christmas that year, I bought a half dozen pair of those ridiculously priced nylon socks. You know, the cutesy ones with monkeys and stripes and whatever else I could find on them. Those were one of her Christmas presents that year, and when she delivered in January she had a pair on in the hospital. Every year since then, we've exchanged novelty socks in lieu of more expensive gifts. Money is always tight, and we don't need to spend a ton to know that we love each other. It is fun picking out socks just on the factor of will they make her smile or not.
One of my dearest friends in the world has a birthday in November. We worked together for five years and helped each other through many good times and bad ones too. A couple of years ago we started exchanging socks also, at birthdays rather than Christmas just for the fun of it. Because of the history of the sock exchange with my sister, it speaks of a great affection between my friend and I. I taught her to crochet last year, and though she has stopped (unfortunately), she enjoys seeing the things I have made and speaks of starting again but hasn't taken the time to plan a project. I'm hoping these give her the push she needs.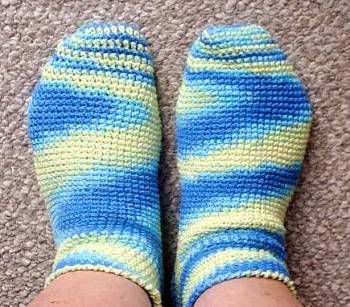 It is Cascade Fixation sock yarn, the colorway is Pacific, and was sent to me by the marvelous
Tiff
who was destashing in order create room to build up a roving stash. I loved the incredibly bright color and couldn't wait to make a pair of socks with them. Besides, even though I haven't done anything but wear them to take a picture, my neighbor across the street noticed them already. I stepped out onto the front porch to see if I could take a decent picture of them there, and I heard from across the street, "Love your socks!"
I do too!