I hear Dean Martin singing...
All day long I've been anxious to post about my mother's shawl, and now that I'm finally sitting here I am not sure how to begin. Let's just start with a picture, shall we, and continue on from there.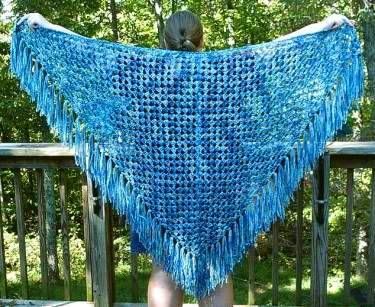 It's big enough that I can't hold the ends at arm's length. I love this shawl. This is, as I've written before, the TLC Amore in
Lagoon Print
. I love this yarn, I think it is perfect for shawls, or at least this one. It hangs beautifully, swings when I walk and is wonderfully warm to wear. I used this
pattern
again, and loved every minute of it.
I'm going to cry when I send it to my mother tomorrow.
I promised she would have it no later than Saturday, and so she will. I'll tell her if she doesn't like it, she can send it back.
I
won't mind! I haven't boxed it up yet, it seems such a shame to pack it away into a box. Yes, okay, I'm freakishly enamored of this shawl. I can't help it! Truly, I like the yarn better than the color, though that is nice too. It's just the yarn, I'm in love with the Amore. It isn't wrong to be in love with yarn, is it?
I've gone back to working on the baby granny squares, after all, the baby is due sometime next week. I must keep working on it. In the meantime, the Kool-Aid dyed wool is calling to me. I don't need a big bag, just a small little bag for the checkbook and my various useless cards. Maybe a pen or two. Perhaps a small brush and my cell phone. Okay, okay, I'll keep working on the squares. The baby, next week, I know!!