I'm like a kid in a candy store. Sheesh!
I'm just so happy I hardly know where to start.
I was born in Michigan, but we moved to Florida when I was in the first grade. All my memories of snow are happy little kid memories, not the "Dang!! I can't stand having to dig the car out of the driveway
AGAIN
!!!" memories my parents have. My little sister and I played and threw snowballs and slipped and fell, laughing all the time. I never learned to not like snow.
Here in Georgia, we get little bits of snow, nothing to call home about or even consider bragging about. In fact, I always have to watch myself not to express joy when it begins to snow. While all my friends and neighbors are rushing to buy five gallons of milk and eleven dozen eggs
just in case
we lose power for three seconds, I'm staring heavenward watching for the first few flakes. There never are enough to please me, and they never last long enough to keep me happy. Maisie the beagle, yes, but not me.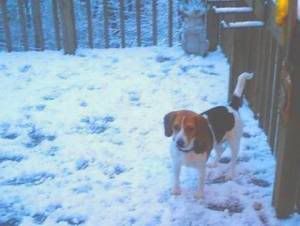 I never dreamed I could do this. I can't help it. I've been crocheting for five years now, but I just didn't think I would ever be able to do this. I'm floating on a cloud right now.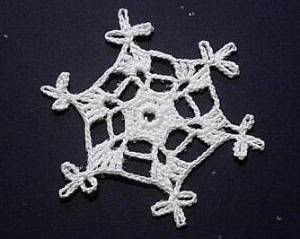 My first three snowflakes I've ever made. If you could see me, I've got the dorkiest, biggest grin on my face that I've had in a long time. All three were crocheted with size 10 crochet thread (DMC Traditions) and a #7 hook. I starched them using the
cornstarch "slime" method
and am pleased with the results. Rick asked for glitter but I wasn't very enthused with the idea. Is it possible that I am a glitter snob before I even started on the first snowflake? I decided that glitter on a few snowflakes would be acceptable, and then searched for the smallest flakes I could find. I settled on a transparent glitter which doesn't do anything but sparkle a bit in the light. You can't see the darn stuff when you sprinkle it on, that's for sure! The little bits of fuzziness you might see on the flakes is the glitter, not actual fuzz from the thread.
My 400 T-pins came today, just in time to block the snowflakes. I thought, at first, that 400 was way more than I'd ever need. It still is, but the flakes took a lot more pins than I thought they would. I'm not complaining. It was so exciting to see them pull into shape with each tug of a pin. It won't be long before I put them back to work again.