In The Spirit
Perhaps this will shorten the amount of time I lay awake, worried about how I'm going to get things done and what I'm going to do. We went to Joanns today, and I spent more than I should have to get a good head start on what I have left to do. Rick was incredibly generous and promised he wouldn't get upset at the total. I did, but he didn't.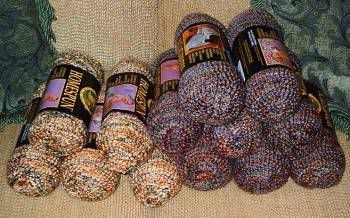 I bought the Lion Brand Homespun for two projects. The lighter color on the left is Sierra, and with it I'm planning to make
this shawl
for my grandmother. The darker color on the right is Adirondack, and I'm going to use it to make a lapghan for my grandfather. I was very surprised to realize the wide range of shades within a colorway in the Homespun. I picked up Sierra, and some were rose in tone, while others had a green cast to them and looked almost like an entirely different color. I ended up gathering as many as I needed in each color, standing them on end in the shopping cart's basket and then standing back 10 feet to see if they matched each other. The lot numbers on each matched, so if they represented a true dye lot I would be surprised. Looking at the site now that I'm home, the Adirondack I bought looks nothing like the Adirondack on the
website
. How can that be? If you asked me any color Adirondack was, I would never had said "dusty green".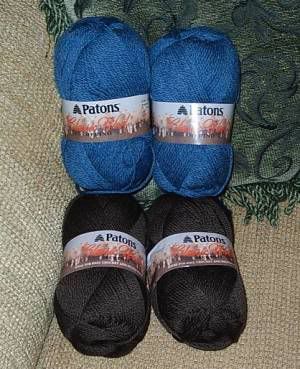 I purchased the wool to make myself a new purse. It was a total splurge and I shouldn't have done it, but I couldn't resist. I'm not sure how I want to stitch it up, but probably stripes for lack of a better plan. I'm not rushing into anything with it yet. It is Patons Classic Wool Merino, in New Denim and Taupe.
On the right in the sidebar, I've started a list of projects I would like to get done before the end of this year. Optimistic, aren't I? A few of them I have already done, thank goodness, but there are plenty more to tackle. Not all are for Christmas gifts, there are plenty of other reasons for those things even though they are gifts. Birthdays, basic thank you's, etc. No need for a progress bar on this one, I'll have enough to do without keeping track of those. Wish me luck, I'm going to need it!