Oh Rapturous Joy!
At 7:30 this evening I was finished with the baby afghan. Yippee!! I told Rick all I still needed to do was work in a few ends, but I would leave those until later. I want to start another project during our movie tonight. I couldn't sleep last night for thinking of what my next project would be. I made us each a second cup of coffee, then gathered up the baby afghan, a needle and scissors to finish off those ends. I couldn't even last 10 minutes before picking it back up again. But now it is really and truly finished.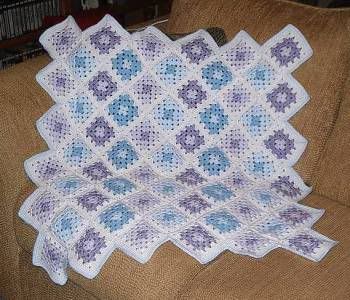 I used TLC Baby Soft and Red Heart Soft Baby yarns, two shades of blue, two of purple and the white with a G hook. I love the way this turned out. I did three rounds of sc for the edging, nothing fancy, with sc decreases in each inside corner. I like the solid-ness of the stitches it allowed which I think contrasts nicely with the open granny square.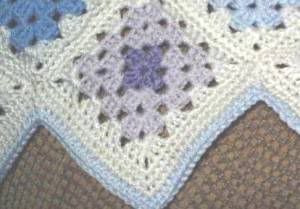 I'm so relieved to have this afghan done. I think I'm squared out for the time being. No more for me for a while. I have three things on my mind to work on now, and only time will tell which one I start on first. In other words, I think I know but I'm not telling yet.

FedEx stopped by the house this morning. Try the
caramel tea
, you'll love it!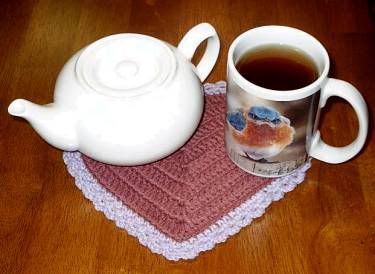 Tomorrow morning I think I'll have Adagio's
cream tea
. I love my little teapot!