One down - 4,241 to go!
I finished the shawl for my grandmother this afternoon. After a day and a half of high speed crocheting, I can mark one off my list.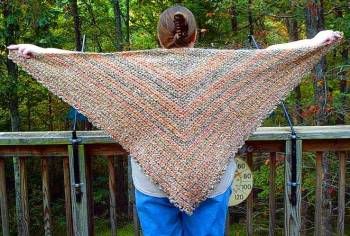 It is 2½ skeins of Lion Brand Homespun Sierra. Don't you love the striping? I changed my mind three times on the pattern. I was going to use
this shawl
, but then I thought maybe
this one
until I saw it was making horizontal stripes. So I crawled out of bed early yesterday morning, chained 5 with my trusty P hook and got started working sc in rounds. She lives in Michigan and this is so warm I'm fairly certain snow will melt from the roof of their house. No? She'll be warm, at the very least.
Today in the mail I received the Women's Day Quick & Easy Knitting & Crocheting magazine, thanks to
Vera
. Rush out and find it if you can, there are some fabulous patterns in there. Thank you so much for sending it to me Vera, I really appreciate it! I wish I hadn't started the scarf for my sister, there are three or four in there she'd probably like. Of course, nobody said I just had to make her one scarf, did they?
I just bought 400 of
these
. Trust me, words do not express how excited I am. Wanna guess what they are for
?