Wow!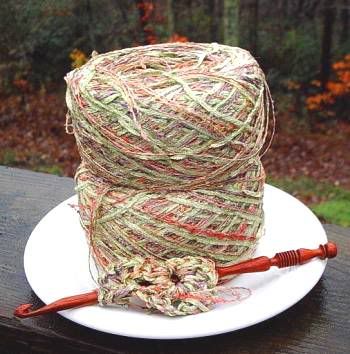 Isn't it beautiful?
Elizabeth
offered to send me some of the chenille yarn and thread she has been using to make shawls and ponchos. I gave a half-hearted no because it was just too generous of an offer, but you can see how successful I was. Elizabeth insisted and I resisted for all of five minutes, at the most. It is absolutely beautiful! I whipped out one of my
K hooks
and stitched a little motif
to stop the drooling
just to see how it looks worked up. As I suspected, it will take every ounce of my will-power to keep from working on it before I get these Christmas projects done. The photo doesn't do it justice, trust me. It is stunning, and I can't wait to see what I make with it. Thank you so much, Elizabeth!!
I'm still working on the Christmas afghan for my folks, and the snowflakes are coming along nicely too. I made my first huge mistake on one yesterday. I didn't realize it until I was pinning it out and by then it was too late to fix. I did take a picture of it and put it on the
snowflake page
, and I'll even use it for decorating, too. I'll just have to make certain I hang it in a prime error-hiding location on the tree.
As for my dessert plate in the photo, while Elizabeth's yarn is certainly worthy of a nice display, it has been raining nearly non-stop since Saturday. We've lost power once today as a strong thunderstorm moved through, luckily the storm left quickly and the lights came back on right away. Everything is wet and soggy. Tomorrow I'll put the plate to a slightly better use, and have pumpkin pie after our Thanksgiving dinner.