It's beginning to look a lot like...
Here is the dye lot-challenged Christmas afghan. I might sound like I'm complaining, but really I'm not. It will do, I am very pleased with it.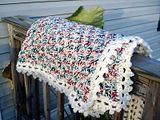 It is RH Holly & Ivy and RH Aran with a P hook, using the
Diagonal Box Stitch
pattern. The colors are truer in the first picture, and you can see the difference in dye lots in the second. It was MUCH worse before I added the Aran, unbelievably bad. I went a little picot crazy and wondered at my decision to use them so much in the edging, but of course now that it is finished I am thrilled with the result. (To be honest I've done a similar edging before,
here
, so I looked at it and winged it this time because I was too lazy to dig out the pattern book. Mom loved that edging so how could I not use it for her?) If you were keeping track or curious, I started this on Thanksgiving Day and finished it this afternoon, eight days later. Not bad!
So, now before I do anything else I'm going to finish up my smaller projects, or at least give them a run for their money. I need to do the hat for my nephew and finish my sister's scarf. AND her socks. I'll have snowflake days twice a week with the goal in mind of more because you never can have too many. I still have Christmas cards to send out, after all. I have one more afghan to do also, but that is another finish-in-a-week project (ripple) and it does not have to be mailed.
Tomorrow night we are going to a Christmas tree lighting in one of the small towns in our area. I'm very much looking forward to the outing. Sunday we are hoping to get our tree and I'm very excited about that too.