Oh boy oh boy oh boy!!
Our mail delivery is by truck these days. Not a USPS truck but a good old Chevy S10. How the mail lady reaches the mailboxes from it is beyond me, but also not my concern. When I hear the truck door slam though, I know she brought us goodies.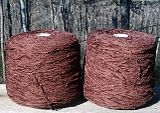 First the details - This is approximately 4½ to 5 pounds of Burgundy acrylic chenille yarn, 1500 ypps (yards per pound). It seems to be a little lighter than worsted weight but I haven't swatched it up yet and I am certainly not going to quibble about it. It is beautiful! I'm thinking
shawl
or
wrap
or perhaps even a capelet... shucks, there is enough there to make at least two if not three beautiful goodies with it.
Next, the
blame
excuses
reasons - Elizabeth made me do it!! She made me drool and
showed off all her beautiful yarn
,
and
sent me
two balls
of beautiful chenille that made my heart go pitter-pat. I
had
to order yarn from
Fiber Options
, I just HAD to.
If you hear any gleeful chortling coming from the Northwest Georgia mountain area, it's me.
Hey! How do you like the new thumbnail photo option from
Photobucket
? It's certainly easier on me than resizing my pictures for the blog. Yep, I am definitely happy over here.