Two Down - Three More To Go!
I finished two small projects today. I don't have pictures because at 4:30 I finally put down the third and said "enough already!". My nephew's hat and scarf set is done, hat washed, fringe added to the scarf. I used good
BLUE
colors of RH SS, I do believe Windsor Blue and Periwinkle. I can just hear my (8yo) nephew now -
Boys are

BLUE

Aunt Julie!!
. Yes sir! My sister's scarf is done; the one I had started about two months ago found itself frogged, re-stitched and fringed. Her scarf is one skein of Joanns Sensations
Angel Hair
(which is discontinued!! WAHH! I love that yarn!!) Now I'm working on the first of a pair of socks for her, just getting to the heel of the
Toe Up
sock pattern which I have dubbed "Ye Olde Standby" with great affection. This is now my third pair of socks using this pattern and I will continue to enjoy doing it because I can try it on as I go.
You want pictures? Oh all right.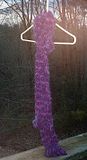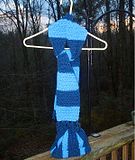 But no sock pictures! Not until both are done. I need the incentive to keep going.