What's up, doc?
Can you believe I have nearly finished everything on my Christmas project list? I can't! Today I tackled the carrot after picking at it on and off over the last few days. One of my aunts collects carrots, decorative and collectible carrots so I made her a carrot bookmark.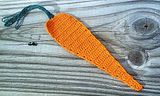 Even though I winged it entirely, I did have inspiration for the pattern in the back of my mind. I used size 10 thread and a #7 hook.
This pattern
is pretty darn close to what I ended up doing, though I started at the top of the carrot and worked to the tip, and frogged it four times until I could get the shape like I thought it should look. Had I looked at the pattern I probably wouldn't have needed to frog it and could have finished it in an hour. I'm still pleased though, it is done and not bad if I say so myself. Thank you
Donna
for helping me remember where the pattern was, even after the fact. May I note how incredibly WRONG it was at first that I was using orange thread? If it isn't white it just doesn't seem right, apparently - all those snowflakes! Next year for Christmas I'll make my aunt
this carrot
. It's so good to have a plan! If I'm smart I'll make it in January and then I won't have to think about it, I'll already be done.
Did I mention my plan for next year? Nothing larger than a hat and scarf set. That's it. Some folks might get snowflakes and others maybe a doily, but for the most part it's hats and scarves for everyone! The main reason for this is the shipping issue - finding a box large enough to ship two afghans or an afghan and a shawl requires some footwork this time of year. I'm not that energetic. Let's face it, I still haven't wrapped anything and it has to go out tomorrow. Guess what I'll be doing tonight.
The last afghan is about halfway finished. I think I can have it done by Monday, but I probably have until Wednesday just to be safe. Thank goodness I don't have to ship it!
Now the big question is, what do I do first after completing my list. It's going to be Snowflake Mondays all year long, and other than that I have no real plans. I hardly know what to think of first.