It's Wonky Time
There was a
post at Crochetville
that got me to thinking about my very first finished object. It's all wavy edges and skipped stitches and I wouldn't part with it for the world. Wanna see my first officially official crocheted goodie?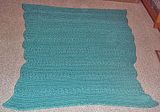 I made this in the fall of 1989, my first ever anything with a hook and yarn. It looks a bit more wonky in person than it does in the photo, trust me. Two months after graduating from high school we moved from Florida to Georgia. I didn't have a job, no friends except the ones I'd left back in Florida, and no car to use to go places and meet people. So my mother, who wasn't working at the time either, taught me how to chain and do a double crochet stitch. I sat on the couch and watched a Happy Days marathon on TBS and finished it in a day and a half. You can see I learned gauge near the end, as the stitches are much more even and I didn't miss them any longer. Unfortunately I missed
plenty
in the beginning so it has that delightfully wonky shape to it. There are
cross-stitch stitches
striped across it (the main cause of my frustration during the hooking process I remember vividly), also a perfect opportunity to up the wonky factor.
After finishing this afghan, I don't remember picking a hook up again until 1998, nine years later. I cross-stitched for a while, and dabbled with rubber stamps but couldn't get into it. We use this afghan all the time when it's cold out (read - NOW), added to a stack of afghans to hold in the warmth in bed. Mainly it's still used because I'm so busy making them for other people I hardly ever finish one for us. It makes me smile to see it, because I know I can do so much better now than I did back then. The lesson learned from the wonky afghan is not to give up once you start a project, and this misshapen, wonkified afghan inspires me to improve every day. Plus, I can honestly say to anyone just learning to crochet that having a wonky project is practically a given and something to be proud about. Keep going, don't give up and someday you'll discover you actually made a square that looks like a square.