Passion Flower
This one wanted to argue with me a bit, but I think I won in the end.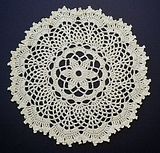 The pattern is the
Passion Flower
by Denise Augostine. I used a #5 hook and size 10 thread for it. My first two doilies called for a #7 hook which I used but they finished smaller than the size given in the pattern. I decided to try for gauge this time and found the hook that got me closest which was the #5 steel hook. I stitch
very
tightly so going up two sizes made a huge difference and I'm pleased to see a doily at the proper size.
I had a few problems with this one, I'm not sure if it was me or how the pattern was written. Not necessarily errors in the pattern, mind you, I just had a difference of opinion on how to proceed during a couple of rounds. I plan to make most of Denise's doilies and can't wait to start the next one. I
love
how it turned out.