Snowflake Mondays
That is going to be the rule around here. Mondays are for snowflakes. With that in mind I made three snowflakes today, here is one of them.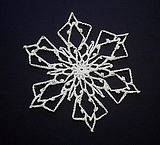 A few days ago I had made mention of my snowflake board which a few people emailed me about later, so I took some pictures of my board today after I pinned out the snowflakes. It isn't anything particularly fancy and not even my own idea. I took the
suggestion
from Noel's excellent site,
Thread Crochet and Snowflakes
. This site is a must-read for anyone just getting started with thread, whether you intend to make snowflakes or not. I have learned so much from the website, more than I thought possible in a short period of time. It's packed with tips on everything from stiffeners to how to clean snowflakes.
(The thing that strikes me the most, as it always does, is how many pins it takes to block out a snowflake. The clump of pins in the center was for the snowflake I pictured above.) The board is two sheets of foam-core poster board. I taped them together on each side and placed six of my blocking guides on one side of the board. Wax paper on top of that keeps the snowflakes from sticking to the guides and is easily replaced.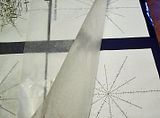 I love the board. It's portable, I can pick it up and lean it against the back of the sofa and turn a fan on in front of it. I'm impatient, I want my snowflakes NOW. I can flip the board over and lay the flakes on it to take pictures. It stores away neatly and is ready in an instant as soon as I need it, without having to drag out anything heavy or make room for it. The only drawback is easily remedied (and I will the next time I go to town), I need to have a colored background to pin the flakes out on.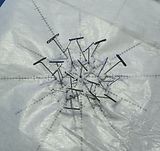 As you can see, it is nearly impossible to see the flakes on the white background. I can remedy this by making copies of my guides on colored paper - I'm thinking lime green or a soft blue. Maybe even red. Something the black of the guide will still pop out from so I can step back and make sure I haven't missed a point that needs to be pinned.
I would also like to make a board for blocking doilies. I don't plan on stiffening them unless they just need it. Granted I've only made one so far but soaking it with water and pinning it flat on the board to dry worked great. The snowflake guide wasn't the ideal solution for the doily though, I'll come up with something else to use because I definitely like having a guide. Did I mention it's Thread Thursdays here too?