Happy Me!
I got my first package from my Crochetville Secret Pal today. I think I'm going to be spoiled, I'm not sure but it certainly looks that way.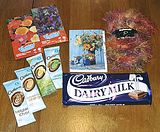 The yarn is gorgeous, it's
Stylecraft Gypsy in Mystic
, the color in the upper right corner. I can't wait to use it. I'm thinking first on a hat for trim, and then the rest carried with another yarn for a matching scarf. Yep, I definitely love it! The chocolate couldn't have come at a better time, but frankly any time is a good time for chocolate!!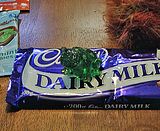 The frog is a little photo holder, it comes apart in two pieces with a magnet on each end. Stick a piece of paper or photo between and it will stand upright.
I really love all my goodies, thank you secret pal!!