June's Little Beauty
Late last night during a game of Scrabble, I finished and blocked this doily. That may well be why I lost the game; too busy placing pins to think of the next word to play. I really enjoyed working on this one, it is a bit bigger than I thought it would be. A very pleasant surprise there, considering my doilies are usually smaller. Not a lot bigger, mind you, but I'll take it!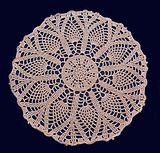 The pattern comes from
Panda Crochets
and is
June's Little Beauty
. It was pretty easy to stitch, and very nicely laid flat for me until the last few rounds. In hindsight I do wish I used two different colors of thread, I think that is what drew me to that pattern in the first place. I used JP Coats Royale thread in Peach, size 10, and a #5 hook. The doily is 9 inches in diameter. Thank you
Vera
, for sharing the link to the website with me.
Looking back over it, I just realized I totally missed a direction in the pattern, and there are missing picots!! Ack! The recipient won't know, but how could I have missed such an obvious step? And I
like
making picots!