Thank you Vera!!
Earlier this month,
Vera
celebrated her one year Blogaversary. In
her entry
, she mentioned
me
for leaving the most comments in her blog. I'm pretty sure that's a good thing (I'm not stalkerish, not normally!), but really, I enjoy reading her posts and am always happy to see what she's working with and on. If you don't read
Vera's blog
regularly, I suggest you check it out.
Vera offered prizes for the
first blog she found
,
first comment left on her blog
, and the most comments. Yep, I got a prize, and what a prize it is!!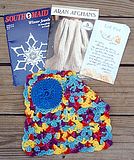 She made a kitchen scrubbie for me (and I needed one, too), and sent the books Winter Jewels (snowflakes!!) by Southmaid and Aran Afghans from Leisure Arts,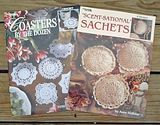 Coasters By The Dozen and "Scent-Sational" Sachets (doilies!) both from Leisure Arts,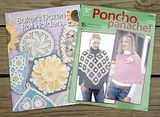 and Baker's Dozen Pot Holders and Poncho Panache!, both from Annie's Attic.
If you haven't gathered by now that Vera is one of the nicest and most generous people I know, read this sentence a few times over and let it sink in. I couldn't believe the contents of the package, and I'm still giddy with all the fun I'm going to have with all of these patterns. Thank you so much Vera! I surely don't deserve such a wonderful prize.
I'll take it though. :o)
This morning I went to Michaels and Walmart for yarn. Yeah, I bought groceries too but it was really the yarn I wanted. Michaels had all kinds of new (to me) yarns that I hadn't seen before. New Mode dea yarns that I was really tempted by (does anyone know if the Mode dea 'Cache' will felt? 75% wool/25% acrylic) and lots of new books to flip through. I bought more yarn for troop hats (black black and more black) and some crochet thread in peach and cream. I also bought some Bernat Bling Bling in Spotlight Sage, and trust me that the picture does not do it justice.
Lots of little wisps of sparkle throughout the yarn, it's 100% nylon and chunky weight. I have no idea what to make with it but the color required me to purchase it so I did.
I want more.