The All-Season Shawl
Massive frustration time. I ran out of yarn.
Lion Brand Wool-Ease
in 'Mushroom'. I was so close to finishing the shawl yesterday afternoon I must have pouted for a good two hours at least. Okay, I'm still not done pouting. I sat there and stitched and frogged and stitched some more. I frogged the border three times hoping like crazy I'd miraculously come up with the 5 feet of yarn necessary to close the 26" gap. My math could be off, but I am sure the most I gained was two inches after three alterations to the edging. Finally I was forced to realize it just wasn't going to happen, no finishing it today, and I worked it up like I originially wanted it to be and tried my best not to sob at the gap. I thought, "Tomorrow I'll run down to Michaels, buy two skeins of yarn in complimentary colors, and finish the darn thing. One skein in the color I'm using now, but a second complimentary skein in case the dye lots are WAY off on the correct color and it doesn't match. I'll frog the whole edging again if I have to, but I'm not doing this thing halfway. This is my everyday out in public shawl, and I want it to look nice and classic and be WARM. No fooling around with this thing."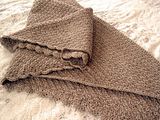 And then I went to Michaels this morning and they didn't have any Mushroom. They had an empty bin with a hang tag that said 'Mushroom'. I'm sure someone there had to hear several cells in my brain imploding from the irritation. If only I hadn't been so greedy for each additional half inch of length that final skein could get me. I wanted just a bit more to drape on my arms, just a little bit more. It was that last row that did it to me, if I hadn't added that last row before starting the edging I would have had enough to finish it. I fussed over it for three days, hardly stitching it because I was so busy agonizing over whether or not it was long enough. Yeah, I'm greedy. I want the last piece of candy in the dish too.
My secret pal mentioned she liked the Woods Print in
Wool-Ease
, which they had at Michaels. It was my best bet for finishing the shawl today. I could have held out for more Mushroom a few more days, perhaps they would have restocked it but I was already frustrated enough as it was. Plus another cold front is due any minute now, I wanted to have it done so I could wear it! So I bought the Woods Print, came home and frogged the edging for the fourth time and replaced it with the new color.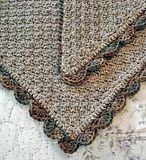 I'm not sure that I like it; I'd had a single solitary color in my mind for the month or so I've been working on the shawl. I had it pictured in my head. Rick likes it. Ask me again tomorrow, and I will too.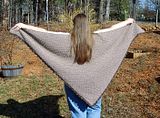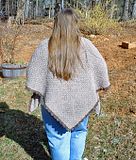 By the way, we had a hard time taking photos of the shawl that actually looked okay. I mentioned the cold front coming through, and it is with a vengeance. The wind is gusting around 35mph outside right now. We spent a lot of time fighting the wind, it's a wonder I was able to hold onto the shawl at all. I'm sure you can imagine how great my hair looked out there too, it's not much better in this picture:
click here
.