Cosmos
This is another little doily from the
Dainty Little Doilies
book. It's another Patricia Kristoffersen pattern and is a good companion doily to
Vanity Fair
that I finished two weeks ago.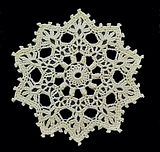 I used, in my struggle to get close to gauge, a size 3 hook for this one.
Jess
may get me for it, but darn it I was at gauge this time! I'm working at keeping the thread higher on the hook, and hopefully it will make a more apparent difference to me on the next doily. This one is going in the mail along with
Vanity Fair
and
June's Little Beauty
to Rick's daughter. She requested six neutral colored doilies, so we'll see what she thinks of these. While we wait to hear, I'm going to do something bigger for us. And maybe with more color, I'm so eager to use color.
I think
Dawn
had mentioned a few days ago that
Denise Crochets
isn't up right now. (I think it was
Dawn
- I remember reading it but my brain is still in a fog from the wonderful increase of traffic to the new Crochetville forum. My apologies if I am remembering incorrectly.) Unfortunately that still seems to be true, no website full of wonderful doily patterns. I hope Denise is okay, really and truly. I found some I have printed out in the past to do but chose one over another and so still have the copies, thank goodness. In the meantime I have lots of her patterns bookmarked that I would like to do, and can only hope the site is back soon. In the meantime, check out the
Wayback Machine
website. Put the URL in of Denise's site or a particular pattern you might have bookmarked and it seems to have most all of them listed - or at least the ones I have checked so far. No photographs of the doilies though, but the patterns are still there. My memory isn't so good to remember what all of them looked like, but if I bookmarked them it must have been for a reason so I might give a couple of them a try while I wait with baited breath for the site to come back again.
Jess
sent me some of
her silver lurex
to play with today, along with a wonderful gift of four balls of Opera thread in red, peach, white and a gorgeous dark teal color. She also included three of the blue thread hook cushions which I have been unable to find in my local stores lately. I
screwed up and forgot
neglected to take a photo to show just how generous she was because of trips to the post office and grocery store, and now that it's dark I know my camera can't handle it from experience. Trust me when I say I was thrilled to receive the box, and even more so when I saw how thoughtful she was. Thank you so much Jess, I really appreciate it!