Hat Swap Hats
I mentioned on
January 19th
that some of the ladies participating in the
Crochetville Hat Swap
were going to make extra hats to donate to
anysoldier.com
or another organization of their choice. The grand total was 55 hats. I received 25 hats from 12 ladies:
Chelle
,
Deneen
,
Sutty
,
Pam
,
Marvie
,
Rebecca
,
Jayme
,
Rebecca
,
Kelly
,
Barbara
,
Carmen
, and
Tari Nienna
. The award for most hats sent goes to
Sutty
for six wonderful hats she sent at the beginning of the swap (except I don't have an award yet... I must come up with an award). As incentive for the ladies to make hats, I brashly stated I would match a hat for each hat I received to send to anysoldier.com. I think the idea of torturing me with hats did the trick, and there were days when the hats stuffed my mailbox to the brim. But I did it too, I made 30 hats and managing to keep ahead of the count most of the time.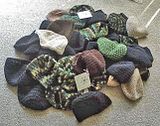 Thank you ladies, for the pile of hats on my living room floor. I needed the push to get as many done as I could, and you definitely came through for me. The hats are going out in the mail this week, a box to this APO, a box to that one. Here, there, and everywhere. Thank you thank you thank you!!!