Heather says I'm the snowflake queen!
I just got the sweetest little gift in the mail today, I can hardly believe it.
Heather
sent me a little package which was brought to the door by a shivering UPS man. It's snowing here, very unusual for Georgia in the month of March. Not nearly enough to even mention, other than I LOVE the snow and wish it would stick around longer. Yes, as I've already told Donna today, I'm very weird.
Look at how appropriate Heather's gift to me was for today...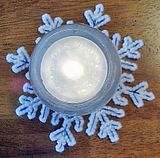 It's one of the cutest little plastic canvas candle holders I've ever seen. I might be a little biased, after all, it
is
a snowflake. I can't quite figure out how the base is attached to the cup which holds the candle, but that is the mystery I suppose.
It's very sweet and cute and I just love it, Heather! Thank you so much!!
(Rick claimed the candle in it, he loves the scent. I had to sneak it back from him to take the picture and will replace it with one of my own instead.)