Incorrigible
All I needed was a whisper of different colors available...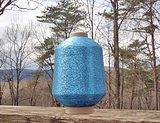 It's beautiful metallic ocean blue lurex from Melanie at
Fiber Options
again. Snowflakes, yes. Bookmarks in blue or green or purple, yes.
Oh yeah, I'm totally in love.
And I'm waiting for an email from Melanie right now.
More colors.
YUM!