She must have read my mind!
I was thrilled to receive a package in the mail today from my secret pal. I can't believe how lucky I am to have such a great pal.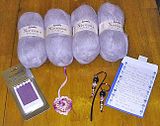 The four gorgeous skeins of lavender Wendy Nirvana DK is crying out to me already make it into something, soo soft and such a pretty color. She sent a beaded book mark and matching keychain, and see her very first thread project ever - that adorable thread bookmark, and some purple emory boards too.
I've been wanting stitch markers for quite some time now, and my wonderful secret pal read my mind and sent me a set. Not just any set though, but the first set she
ever
made.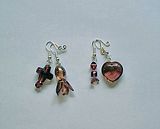 I'm flattered beyond belief to receive so many firsts, I will always treasure them. Thank you so much Secret Pal!!!