Snowflake Monday and Goodies Galore
Snowflakes are not meant to be perfect, snowflakes are not meant to be perfect... I made a couple mistakes today. I really only messed up one snowflake, and it is messed up but good.
See?
Rick calls it the peg-leg flake. It looked MUCH worse with five arms before I blocked the poor thing. I was scooting those arms around trying to get it to look evenly spaced on the board. Had I noticed the flake only had five arms I would have picked out the tail and fixed it. Unfortunately it did not become obvious to me until I had soaked it in the
Stiffy
and placed the third pin. The first two seemed okay, but it was that third one that caused all the trouble. Yeah, maybe it's the
pin's
fault! The second thing I did wrong with it was completely ignoring the pattern (it must have been a trend) and putting those three extended picots in place the way
I
wanted them to be. So they don't sit properly and aren't symmetrical. Not that the flake is symmetrical, but we must start somewhere.
Obviously I didn't start with that flake.
This was the second flake and it turned out much better.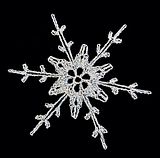 I'll be making a few more of these to use for gifts this year. I like the shape of this one.
Both of these flakes came from the
Lacy Snowflakes book by Leisure Arts
. I told myself I wouldn't post a photo of each and every snowflake as I made them when I started making snowflakes again this year. However, I did in this case to point out the lurex. In the first photo it is hard to see, but I used the silver lurex that Jess sent me a sample of last week. VERY nice look, very clean looking with more sparkle than my clear but not enough that it looks black against the flake. I was worried about that. The second flake uses the blue lurex with the white thread. I'm not crazy about that look but that is okay, I really bought the blue to carry with blue and purple threads. I think the lurex can be seen fairly well in that photo, and gives a good idea of just how thin it is.
Last week
I mentioned that
Jess
had sent some silver lurex and a few surprises to me. These are the things she sent to me, and again, I am so touched by her generosity.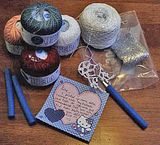 I've started another snowflake with the white and silver lurex she wound for me, you can see it in the photo. I'm in love with the colors of Opera that she sent, particularly the teal blue. I'm especially thrilled to have the thread hook cushions as I can't seem to find them here any more. Thank you so much
Jess
!
Today I received two packages in the mail that were complete surprises to me.
The first was marked RAOK and truly was a random act of kindness.
Deneen
sent me a lovely snowflake book.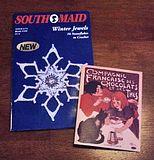 Thank you so much
Deneen
, this is a fabulous book and I can't wait to make some snowflakes out of it.
The second is from one of my fellow Georgia crocheters, my friend
Karla
, who sent me sweet little goodies 'just because', along with the promise of a book I've been wanting for a while that is on the way.
Girlie stuff! I love girlie stuff. Tomorrow night I'm going to scare Rick with the mask and thoroughly pamper myself with the
Burt's Bees
products. She also included some of
adagio.com's teabags
to try; all I need is to choose
my favorite loose leaf
and I'm set to go. The stickers are great for the backs of envelopes and to make bill paying just a
leetle
bit more fun for me. Thank you so much
Karla
!!