Snowflake Monday or It's about time!!
Today, for the first time in nearly two months, I worked on snowflakes. I could hardly believe it myself. Rick bought me, a week or two ago, some metallic Lurex thread that I had been watching on eBay, sold by
Fiber Options
. It's clear, shiny, and about as thick as your hair. Maybe a tad bit more. When carried with the white thread for the snowflakes, you don't see the fiber of the Lurex, but you do see the sparkle. It looks almost like the sparkle is coming from the white thread itself.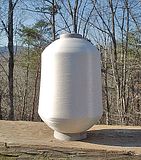 There is enough thread on that spool to probably make several thousand snowflakes; the cone weighs 1¼ pounds. She still has a few cones of silver and gold Lurex available, do a search for 'Lurex' within her store and they will come up. I wound it along with the thread on my yarn winder to make a rather loose ball and made such a little dent in the amount on the cone that it is entirely possible that my estimate of thousands of flakes may be too low. Here are the two I made today, both of them in the 5 to 6 inch range in size.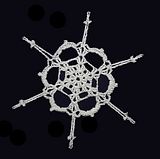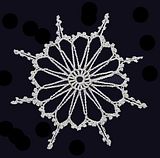 In honor of Snowflake Mondays revisited, I made a button. Snag at will, if you'd like to make snowflakes too. The idea behind it is simple - make at least one snowflake every week. By the end of the year, you've got a heck of a lot of snowflakes.
Everyone
likes to discover a snowflake tucked inside a Christmas card, and in a pinch a few will make the perfect gift for that person on your list who has everything.

Thank you
Jess
, for giving me the idea to make a button.
And before I forget,
Gina
is hosting a
snowflake CAL
on her blog. If you are going to make snowflakes this year, drop by and join us!