Norwegian Filigree Bookmark & Lurex... again
I got more lurex yesterday. Don't ask me where I'm storing this stuff, I have no idea. Right now I'm busy admiring how pretty the red and iridescent look, camped out on my dining room table.
Here's the most recent fix (because I am definitely addicted):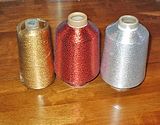 Gold, Red and Silver.
I have been drooling over the red for some time now and was so glad when
Melanie
finally got it in. I promptly searched for a quick project to use the red lurex in, wound it with red thread and made the
Norwegian Filigree bookmark
.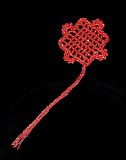 The white sparkles are actually the red lurex reflecting in the flash. I used size 10 thread and a #3 hook just to keep it big (because you know I stitch tightly with thread), and then blocked it with water to make it even and square. Other than a three hour interruption while we ran errands, it probably only took 30 minutes to make this bookmark.
I think I'm done bothering
Melanie
with emails for a while, though that
multicolored lurex
is still in the back of my mind. She's been so kind and gracious when replying to my
begging like a dog for a treat
questions that I will do everything I can to encourage folks to keep her in mind when buying yarn and lurex at eBay. She's great, I can recommend her wholeheartedly.
To complete the spoiling process, I received a table runner leaflet from
Rebecca
today.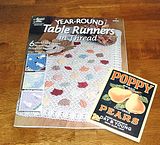 I had looked very hard at this leaflet in the last Annie's Attic catalog I got,
Rebecca
must have read my mind. It even features a snowman table runner, and as I love all things snow related this is a most excellent book. Thank you so much
Rebecca
!!