October
I guess it's a fitting name for the doily I finished today. After all, temperatures over the weekend dipped down into the 30's here in northwest Georgia. Even today we had a fire burning in the fireplace as it was raining and barely 50°F for most of the day. Luckily with the rain most of the pollen seems to have eased up just a touch, so I'm hopeful that some of the rain will head over to
Andrea's
neck of the woods so she can breathe better too.
But enough about the weather - talk of the weather is for when you don't know what to talk about. I've got something to talk about.
This is a biiiig doily. Unblocked it was 14¾ inches in diameter, blocked it comes in at 17½ inches. The pattern gave a 17¼ inch diameter, so you can imagine that the happy dance was being done with the tape measure still in my hands. I can't believe I finally got one right!! The doily pattern is from
A Year of Doilies, Book 3
and is named, of course, October. J&P Coats Royale thread in Natural, size 10 with a #7 hook. Yes, I just gave all the details in my
last entry
, but I'm proud of me for doing this one and I'm going to brag about it while I have the opportunity.
As mentioned previously, this one is ours. It is already in place on the coffee table under two of my favorite
Fenton Art Glass
pieces.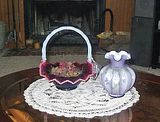 Rick is already
demanding
requesting another doily just like it for the coffee table. The doily might be big but there is plenty of room for another one beside it. I told him it would have to be a little different but I'd start picking out a pattern. Something smaller is in order for the next doily though, and that will give me plenty of fun things to look at while I hunt the next pattern to stitch.
Added
- update your bookmarks!! Maybe everyone knew but me, but here is Denise Augostine's website:
Crochet Paradise
. Most of the patterns look to be back, I can hardly wait to start the hunt again. :o)