Promised Projects finished
I have three ponchos to send to my niece, for both her and her best friend. I've done them before,
once for my niece
and
once for a friend's daughter
. It was complete and total repetition which had me so bored I didn't want to work on it. I glad they are done now, I feel a breath of fresh air to have them finished. Using the exact same colors as before only made it seem like I'd been working on them for ages.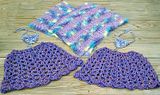 My niece is getting one of the two purple
Lacy Shells ponchos
on the bottom of the photo, the other two ponchos are for her best friend. My sister paid for the one on top, saying that they share everything anyway and this way my niece will still have the one exactly like the one
I made back in January
and the friend can have one too. Or something like that. In any case she paid for it. The two on the bottom are my contribution, each took less than a skein of yarn to complete and worked up in less than an afternoon. They are exactly like
the one I made in February
.
Because I always make my mom little things and send them to her, I felt like I should do something for my sister since the box is going to her house this time. So I made her a pair of Barefoot Sandals, from the November 2004 issue of
Crochet!
magazine.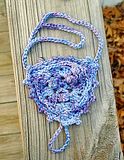 If you aren't familiar with them, the loop on the bottom slips around the toe next to your big toe on your foot, and then the straps tie back around your ankle. When walking around it looks like you are wearing sandals, except you are of course barefoot. I used less than one ball of
Endless Summer Collection Sonata
in a colorway not shown that I can't remember the name of anyway. Purples and lavenders. It's wound with size 10 Royale thread in a blue/lavender colorway similar to RH Ocean and, surprise, blue lurex. My sister lives in Florida and lives on being barefoot. So do I, actually, but those really aren't my cup of tea. Hopefully she'll get a kick out of them, I think they'll suit her perfectly.
And finally, not to leave my nephew out, he is getting...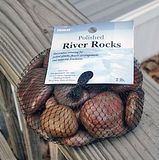 ... a bag of rocks. He won't wear a poncho, and it's not the right season for me to send him a hat or something similar. So inspiration refused to strike crochet-wise and I remembered his affinity for tumbled rocks (he's 8 years old). My sister said he'd be thrilled. I hope so.