Thread and More Thread
The last two days have been fabulous days on the doily front. I've been able to add about four rounds a day to it, bringing me to round 30 of 37 rounds complete. Not bad! If I keep this up I will definitely have it finished early next week (because I know better than to expect that I'll be able to keep this up - something will get in the way). Want to see it so far?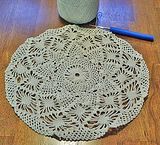 It is October from
A Year of Doilies, Book 3
. I'm using a size 7 hook and #10 Royale thread in the color Natural. It's 11½ inches in diameter, unblocked, and I still have seven more rounds to go. The best part is, this one is for us.
I did manage to complete a snowflake this week: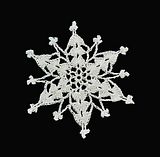 The lurex shows up really well in this photo for some reason, see the sparkles?
This was last week's snowflake: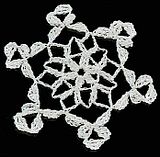 The roses are still in progress, I'm midway through a third one. I may finish the doily first before I complete another rose. It's a hard decision. I'm doing so well with the doily I hate to work on anything else, but if I did a couple small things in between I may well keep up my enthusiasm and finish the doily by Wednesday at the latest. It all hinges on tomorrow; what will tomorrow have me work on? Please, just don't let it be something I'm not currently working on at this time!!