Where's the FO?
The new
Crochetme
is up, go see! Nice cute
quick
patterns, I'm in love with several of them. Great job Kim and all!
I have no FO to show off, I'm floating in a sea of almost FO status. Three things so close to being completed that they should be, and only my wandering mind to blame for my failure. Tomorrow is another day, as someone fictional once said, and maybe just maybe I'll finish something. If only it were blog-worthy.
Karla
sent me a book I've wanted for an incredibly long time. Why I haven't bought this book for myself I don't know, but it's wonderful. I'm just thrilled to have a copy of it now.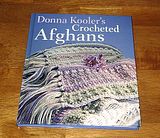 I wrote on the inside cover who it came from
Karla
, so I'll always have a reminder of how kind you were to me. Thank you so much!!
I have one more photo to show, so feast your eyes on the wonder that is lurex. Oh... yes, I guess I have Lurex Acquistion Syndrome. There are worse things to have.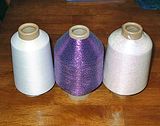 From left to right we have iris (pearl?), purple and iridescent. I question the name of the one on the far left only because of an email exhange with Melanie that had me a little confused. And it's very easy for me to be confused, let's face it. So if you are looking at her
eBay store
, I believe the color is now
pearl shimmer
. Either way it's all very nice. The iridescent is screaming at me to wind it into some thread for snowflakes. I am such a sucker for this stuff. Oh yes, there is more to come (though my budget has to catch up now).
Come on budget!!! ;o)
Hey - I already told you once, go see the new
Crochetme
now!