Around here somewhere...
I have been cleaning large areas of our house for the last week. I have been shopping at various stores for the last week. I have been fishing during the last week (and didn't catch a darn thing thank you very much). I have been working on setting up a business during the last week. I have a nearly finished doily driving me nuts because I don't want to do anything else but work on it and yet I keep getting busy doing other non-crochet things that aren't nearly as much fun to do. Tomorrow I won't be home much so maybe, hopefully, Wednesday I might have it finished. Please with sugar on top? I also have a half finished sock calling to me to put the heel in and start on the cuff, but the doily is much noisier and demands more of my free time. Socks are great car projects though, so if my sweetie drives you can guess what I'll be working on in the passenger seat.
Adding fuel to the fire to get things done, I got this wonderful package from
Jess
today in the mail. She knows me like a book, I'll tell you right now. Just perfect!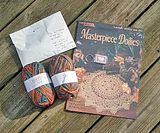 I had absolutely no idea she was sending me anything so it was a total thrill to get the mail for a change. No bills and sock yarn!! The sock yarn is from
Knit Picks
of course,
Dancing yarn in Swing
. On my monitor it looks darker than it does in person; in my hand it's almost a rainbow of color. I love it! In fact, I like it better than the
Dancing Two Step
that I bought. It won't be hard to decide which one to work up first. She also sent my first PK large-sized doily book,
Masterpiece Doilies
. I have a few books with some smaller patterns of hers included, but this one is all larger patterns. I am drooling over the book, somehow Jess even managed to get one that isn't stocked at my Michaels and I haven't seen before. Plus a sample ball of multi-colored lurex (in the white envelope) and a keychain from the Maryland Sheep+Wool Festival to finish up the package. Thank you so much Jess!