Boxes For Brendan
One of the ladies at
Crochetville
has a young nephew going through some serious health problems right now. The wonderful folks of
Crochetville
are putting their talented minds, hearts and hands to work to bring a little comfort to this adorable little boy,
Brendan
. If you aren't familiar with Brendan's story you can read more about it
here
. Thanks to
Ro
for her hard work in setting up and maintaining a website for this project dubbed "
Boxes For Brendan
".
We're making Brendan a
zoo
! I finished my contribution today, a snake which is quite possibly just as long as Brendan is tall.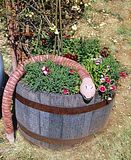 It's 45½ inches long and the pattern can be found
here
. I enjoyed trying to make it as long as possible (and yet still able to fit into the box I have for shipping). Every last millimeter will fit without smooshing either end of the snake. I hope Brendan enjoys it along with all the rest of his menagerie both completed and in the works.
You can see pictures of other completed items for Brendan by clicking
here
.