Jess made me do it
And actually
Andrea
had a good hand in it too because of a comment she left in
Jess' blog
.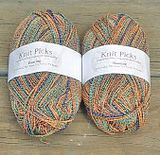 Knit Picks Dancing
in Two Step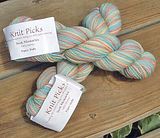 Knit Picks Sock Memories
in Paper Doll
I'm wishing I'd bought a different color in the Dancing now that I see it in person, but maybe once it's worked up I'll like it better. I'm not so crazy about the elastic threading running through the yarn, though I do like the elastic in the fiber. I don't care to see it is all, but once again, I'll work it up and see what I think then. The Sock Memories is
BEAUTIFUL
, this the first merino wool sock yarn I've purchased and it's so yummy! The colorway isn't really me but I couldn't resist, it was too pretty. I may have to buy all of them just for fun.
In other news, the wonderful
Tiff
sent me some
RH Casual Cot'n
in Mushroom because I have yet to find any at all in my area. (Which isn't so odd if you tried to go yarn shopping around here, you'd understand.) So I promptly went to work making her
Crossed Bucket Hat
and love it! Dork that I am I couldn't take a decent picture of me wearing the hat so I will have to try again. Go make it if you think you'd like to have a nice summer hat, it's a one afternoon project. Rick was amazed I'd finished it so fast. Great pattern Tiff, I love it! And now that I've seen the Casual Cot'n, I'll have to order more to make a couple other hats soon.
63 Easy-To-Crochet Pattern Stitches Combine to Make an Heirloom Afghan
. I can't find it anywhere, I've looked with my other pattern leaflets and magazines and books with no luck. It's hiding from me. I'm giving it another 24 hours to come out and surrender or I'm ordering another copy (because Wal-Mart didn't have it tonight). I reorganized my yarn stash yesterday and the 30 finished squares started crying because I haven't touched them since last June or July. I can't pretend any longer that I don't hear the weeping. I will be good and get this afghan finished. No more excuses.
Except for the snowflakes... and sock yarn... and doilies...