On My Toes
Today was catch up day on various projects. The primary goal was to finish the first
Sock Memories
sock. This is the first 100% wool sock that I've done and I really like it. It's more stretchy than I thought it would be, and it's still sized just right to fit my monstrous size 10½ foot. Not too big or too small, just right. I used the
Toe Up Socks
pattern for the body of the sock, and made a shorter version of the cuff from the
In Your Shoes Ankle socks
for this one. I have four yards left of sock yarn, you can bet I was breathing a sigh of relief when I was sure I had enough in the first skein for the sock.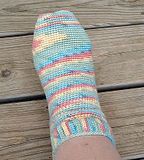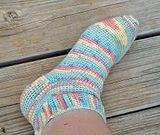 The color is
Paper Doll
and I love it. It does make me want to do a solid color sock next, or one in shades of a color just to have a little variety for a change. Maybe some
Color Your Own sock yarn
is in my future. Now I just have to start the mate to this one and I'll be set.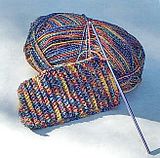 Move on, just keep going... Nothing to see here.
My niece's seventh birthday is on the 17th. I asked her what she wanted for her birthday (because she already has everything on the planet she could possibly want) and she didn't know (see, proof I'm right!). Finally she said girly stuff, especially pink flip-flops like the
green ones I made
for her last year. I can do that.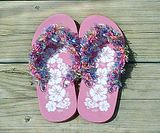 Patons Twister 'Fruit Loops'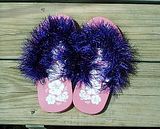 Bernat Disco 'Motown Mauve'. (It's got Lurex in it, I couldn't resist. She won't have a clue, but I will.)
I think one more pair is in the offing along with a couple cute tops to up the girly quotient. I wish my nephew was as easy to shop for.