Pineapple Sundae
The more doilies I make the more I want to make. This one is for a gift and I'm going to have a very hard time parting with it when the time comes.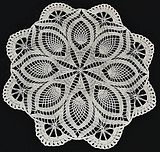 It's called Pineapple Sundae from
The Ultimate Doily Book
by ASN. Besides how much I like this doily pattern, my biggest thrill comes from the finished size - 21½ inches in diameter. The pattern gave a size of 21 inches. I used a #6 hook and DMC Traditions thread, size 10 in Ecru. It took one full ball and a little of a second, just about halfway around the outer edge. It is almost all treble stitches, chains and single crochets with a few treble trebles thrown in for good measure. In the next day or so I will drape it around a cardboard tube and wrap it in birthday gift wrapping paper so it will be clean and safe until the time comes to mail it off. It's still three weeks or so until it needs to be sent and I am a pro at spilling things and making messes. The sooner I get it wrapped the better.