Tea Time
I had more problems with the
Tea Time
doily than I've had with any of the others so far. I sincerely doubt the problem was with me (HA)
or
the pattern, instead I think it was because the soon-to-be doily heard me call it 'easy' several times before I started stitching and wanted to teach me a lesson. I omitted clusters in the center light blue section which caused no end of problems and caused some serious frogging to occur. I fixed that problem, joined the dark blue to the light and determined halfway through the second round that I had turned it around and was working in the wrong direction. More frogging. Re-started in the correct direction and missed a couple more clusters and had to frog back rounds again and again. Finally, when I began to add the light blue edging I realized that I was working in the wrong direction on the dark blue - but that it was the right direction according to the light blue section in the center. You guessed it. I wasn't wrong when I added the dark blue the first time and frogged it out for no reason, and then made the mistake. *sigh* I had thought, originally, that I could whip out a couple of these in different colors and shades to have on hand for last minute gifts. Just stitch them up every once in a while so I'd be prepared for any gifting emergency. It's a good plan, but I don't think it will be this doily. I'll find another one and forget the word 'easy' is in the English language and blast through them.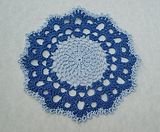 (I also don't like how I blocked the edging but that is something I can fix without frogging, I'll just block it all over again.)
I started a sock using the
Toe Up Sock pattern
and the
Knit Picks Sock Memories
Paper Doll yarn. I couldn't wait to see how the colors pool together (I kind of wish it striped - or even gave me broken stripes as it is in the toe) but it's nice all the same. I'm already plotting my next colorway.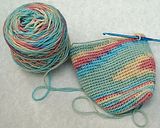 I also reordered the
63 Squares CAL book
yesterday morning. I will finish this afghan before the summer is over (provided the doily doesn't talk to the yarn and cause further problems for me).