Rose Filet Shawl
I understand that some people don't care so much for joining crocheted squares together, but I gotta tell you I don't care so much for tying on fringe. Really, if anyone had offered to come help I'd have jumped on the offer. Keep it in mind for next time, okay? I promise I'll do my best to help join squares for you!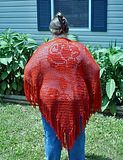 This is the Rose Filet shawl and the pattern can be found
here
, I used just over 3 skeins of
Red Heart Lustersheen
in Warm Red and a G hook, with the remainder of the third skein and bit of a fourth for the fringe. I added a lot for the fringe. As you can see the shawl is huge. If it were in any other color but red I'd be forced to keep it for myself as I already have a red shawl - but now I want one for me too. I finished the body of the shawl last night and spent four hours today putting the fringe on and adding the top edging. Believe me, I never expected to get it finished in time to celebrate the birthday of a Red Hat Society Queen Mother in California (next Monday). I'm very excited! I think with this and the
Pineapple Sundae doily
I'm sending her also she's going to have a really nice day. At least I hope so. Now I just have to get them both in the mail!