Thank you Vera!
Yesterday in the mail I received some lovely scarves from
Vera
. She sent them to me as a thank you for running the
Summer Scarf Swap
at
Crochetville
. They are beautiful and I am thrilled to have them. The white one is crocheted and the pink one is knit, AND the pink one matches the new outfit I just bought so Vera must have had a psychic moment.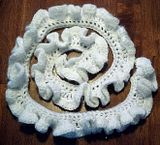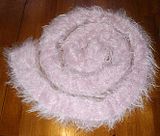 Thank you so much Vera!!
Today I worked on
squares
and then made a trip to the post office. The
Pineapple Sundae doily
and
Rose Filet shawl
are on their way to California. I hated to see them go and will be tracking the delivery anxiously online until I know they are there. That is the hardest part of hand-made gifts; the sending them across the country. I feel good about it though and can hardly wait until the birthday to hear if she liked them. It's going to be a loooooooong weekend.
Tomorrow, more squares!