with a feather I tell you!
I dashed out the door this morning for the grocery store to spend $20 on four things we didn't really need - pickles, dog treats (they think we need them), donuts (yeah right) and trash bags (okay, maybe we did need those). Hmm... seems like the $20 should have gone farther and for the life of me I can't figure out how that total was correct.
Then I came home and completely forgot about the $20.
Celeste
sent me a goodie package, a wonderful, totally unexpected goodie package!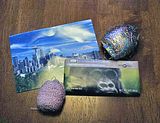 A rather large wound ball of multi-colored lurex (and that stuff is hard to wind, she sent a LOT), a smaller ball of a very soft pink fiber; something stretchy, I'm not sure what it is. And chocolate, who doesn't need chocolate!? So I grabbed my camera fast to take a picture of it all before I ripped open the candy bar because it also was worthy of being pictured. It's a
Gorilla Bar
from the
Endangered Species Chocolate Company
. Very cool. And very good, too! Thank you so much Celeste, you just have no idea how exciting it was to see a package from you. I really appreciate it!
In other (shameless self-promotion) news, I've been working on
a photo gallery
for the new website over the last few days. No wonder I haven't been able to crochet. In any case, please
check it out
if you've got a few minutes to spare. I'm really proud of some of the things in there and can't help but beg everyone to come and see.
I'm so bad!